Dairy Farmers
We understand that every farm is it's own unique environment,
both physically and commercially.
With this in mind, we have designed an animal health system
with set costs and guaranteed results.
To implement this regime requires minimal time and effort -
an estimated 10 minutes a week.
And No, it is not a mineral supplement
And yes, it works!
Our company, Animalhealth Solutions Ltd,
has been providing smart solutions for smart farmers for over 8 years.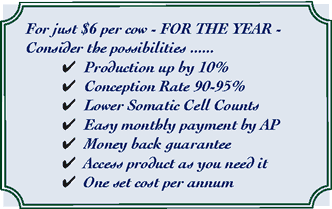 SO WHO USES HOMEOPATHY?

- According to Fonterra,

over 3000 farmers

have indicated that they use homeopathy for their herds.

The Queen of England

uses homeopathy and is a Patron of Homeopathic Hospital in England.
World Health Organisation (WHO) statistics indicate an estimated


500 million

people globally use homeopathy. (Info Feb 2006)

PH +64 272 10 8867